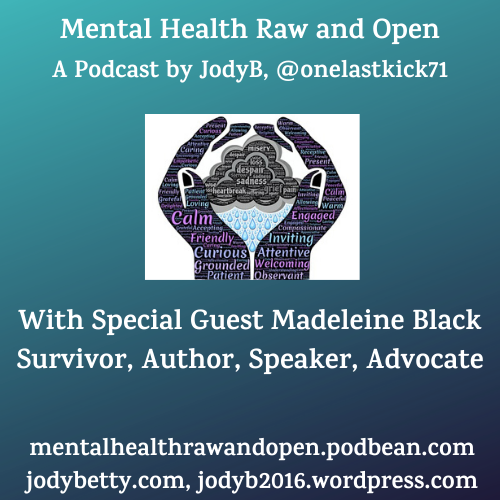 Hi, and thanks for tuning in for another episode of Mental Health Raw and Open. On today's show we will chat with Madeleine Black, who is a rape survivor, an author, a TEDx speaker and a warrior battling for rape awareness across the world.
You can find Madeleine on Twitter: @madblack
Madeleines TEDx talk can be found on YouTube: https://t.co/8Ig0p3XS0E?amp=1
Madeleines Book "Unbroken" can be found on Amazon: https://t.co/Cfgi1wZ79p?amp=1
I hope you enjoy the show, and thank you again, for taking your time to listen. I appreciate all of you. 
I would love if you would pop over to my new site jodybetty.com and subscribe there as well.
If you like my content and would like to help support the out of pocket costs, the links are below. Thank you.
https://www.paypal.me/JodyBetty
https://www.ko-fi.com/jodybbwtips
Until next week, take care and be well. xxx