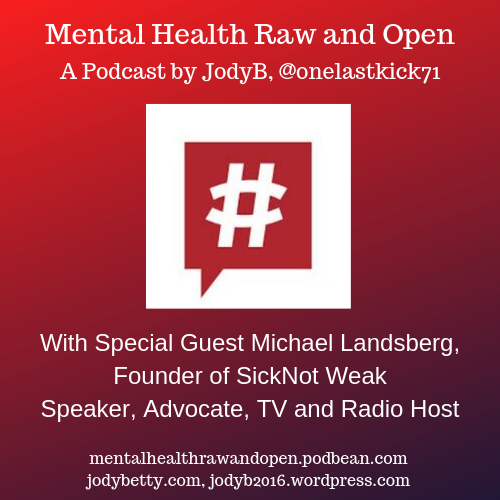 Hi, and thank you for tuning into another episode of the Mental Health Raw and Open Podcast. On today's show, we are joined by the founder of #SickNotWeak movement, and one of my dearest friends, Michael Landsberg.
Michael was a TV host for decades, before transferring his skill set over to radio, where he hosts a highly popular morning TSN Sports show. Michael is a forerunner in opening the conversation about mental health, and has traveled across Canada to speak and spread his message of strength and hope, and to remind people they are not alone. Michael has been awarded many times for his work in the Mental Health area specifically.
You can reach Michael at @heylandsberg on Twitter.
I hope you enjoy the show, perhaps learn something new, and please, pass on the message. Spreading the word helps to open the conversation which can then lead to people reaching out for the help they may need.
Thanks again for tuning in, and until next time, be well and take care.
If you enjoy my podcast or websites, the link below is for smaller donations to help me cover the out of pocket expenses for both. Thank you.
https://ko-fi.com/jodybbwtips