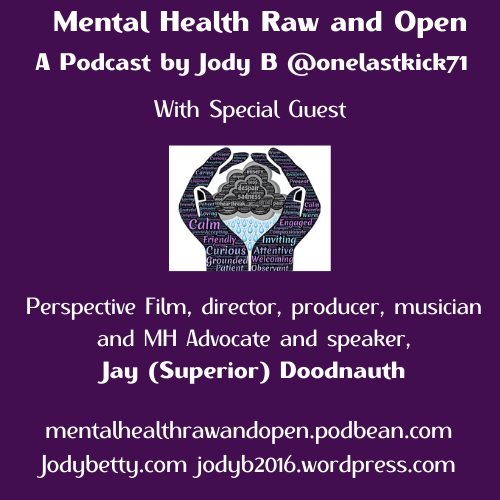 Hi and welcome to another episode of Mental Health Raw and Open. On today's show, we will chat with a very close friend, Jay (Superior) Doodnauth. Jay and I met at the premiere of his short MH film called Perspective. It is incredibly poignant and I would recommend watching it if you have the opportunity. I believe Jay has a link posted to it on his Instagram.
On top of being a film producer and director, Jay is a creative genius and an incredibly good musician. He also spends a lot of time supporting and speaking about Mental Health, and all round, is just a fantastic human being.
Please take some time to have a listen.
You can find Jay at:  https://www.instagram.com/thinksuperior              https://www/instagram.com/perspectivetheshortfilm
or on Facebook @jaysuperior
or on Soundcloud  soundcloud.com/jdsuperior
Thank you for taking the time to listen. It means a lot to me, to be able to have an avenue besides writing to share stories, and hopefully help to lessen stigma. Until next time, take care and be well.
J xxx
If you enjoy my podcast or websites or blog, please consider making a small donation as there are out of pocket expenses and I am on a very limited income. Thank you.
Paypal.me/jodybetty
Ko-Fi.com/jodybbwtips